About ACEMARK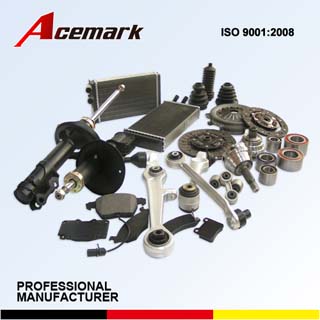 Our company, Acemark Enterprises Ltd., is dedicated to being a worldwide manufacturer of complicated automotive parts and one of the largest exporters in China. Nowadays, we have built up good relationships with customers around the world, whose list contains the very famous car manufacturers.
We take advantage of our premium quality experts and high-tech production facilities. Main advantage of our goods: quality and very reasonable price. We produce our goods according ISO9001:2000 standard under authorized CQC (China Quality Certification Center) technical audit. Nowadays, we have developed in to a comprehensive enterprise made up of eight parts: a shock absorber foundry, a brake parts plant, a clutch system plant, a steering parts plant, a rubber parts factory, etc, which produce different kinds of auto parts. We have developed systematic management processes to control quality,improve efficiency and minimize cost. From the beginning of our company, we all concentrate on satisfying our customers' requirements and now all our customers are always highly commenting our products because of our reliable quality, competitive price and customer-oriented services. Our product series cover shock absorbers, steering & suspension parts, bearings, brake parts, clutch system, c.v joit, cooling system, etc, which widely ranges VW, GM, Benz, BMW, Ford, Peugeot, Renault, Opel, Toyota, Honda, Kia, Daewoo, etc.
For prove our superior quality twice in a year we have audit quality check from China Quality Certification Center and International Certification network--- IQ NET Association. Our company gained the international certificate of ISO9001:2000--- Manufacturing sales and service shock absorber, brake pads, steering parts, rubber parts, clutch system, bearing--- this mean all our production facility certified and guarantee high quality of goods. For each product, we pay great attention to it from the beginning of choosing the raw material to the end of shipping to our customers. Every stage we arrange total inspections and conducted on every product lot. Nowadays we produce for our customer--- wide range of spare parts under their own brands--- they believe to our quality, believe to our service, believe to our price.
All our staffs are absorbed in realizing customers' requirements by offering them our products with high quality and very competitive price. Drive our mission.